Maximize Your Retirement with Dreamvesting Capital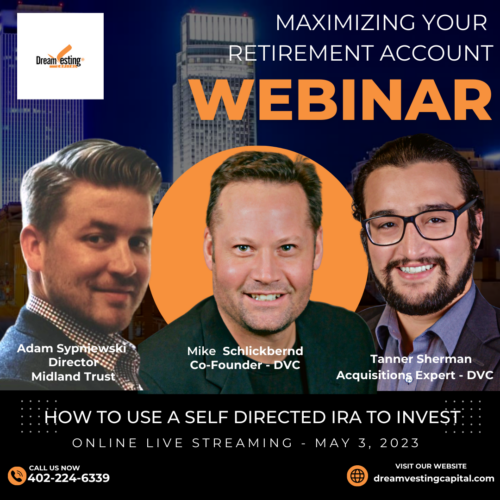 Join Us for Our Free Webinar on
Self-Directed IRAs
On May 3, 2023, Dreamvesting Capital's Mike Schlickbernd and Tanner Sherman will be joined by Adam Sypniewski from Midland Trust to talk about how to use a self-directed IRA to invest.
About Adam Sypniewski:
Adam is a Director at Midland Trust Company. with over 15 years of experience streamlining the alternative investment process and optimizing Self-Directed IRAs, Adam has headed interdepartmental teams and built pioneering services.
His expertise in the evolving FinTech sector has enabled him to help small firms grow and expand their range of offerings while ensuring customer satisfaction. His most recent work highlights the optimization of the Sales Team's outreach and engagement with target audiences.
What is a Self-Directed IRA?
Dreamvesting Capital's free webinar on Self-Directed IRAs will help answer your questions about this growing retirement investment option. Join us to learn how a Self-Directed IRA differs from a traditional IRA or other non-directed IRA accounts. Discover what assets can be invested in with a Self-Directed IRA, and the role of the Self-Directed IRA Custodian in assisting with your investments.
How to Fund Your Self-Directed IRA?
Learn the various methods of funding your Self-Directed IRA, including transferring from another IRA account, rolling over from previous employer accounts, or making annual contributions. Midland Trust will discuss the ins and outs of setting up and funding your Self-Directed IRA.
Join Dreamvesting Capital and Midland Trust for this free webinar and learn how to maximize your retirement savings with a Self-Directed IRA. Our experienced team will answer all of your questions, and you'll leave with a comprehensive understanding of the process of setting up and funding your Self-Directed IRA. Don't miss out on this opportunity – JOIN NOW!